Collateral Free Loans – A valuable asset or thing must be pledged as collateral in order to get a loan. When the loan is repaid, the collateral may be taken back, and if the borrower defaults on the loan, the lender keeps the collateral. A loan that is given to the borrower without any security is known as a collateral free loan. This essentially implies that even without any collateral or investments, you may contact a lender and borrow money from him at a set interest rate.
Let us learn about collateral free loans in more depth.
What are Collateral Free Loans & Why?
Any loan that doesn't require the security of an asset, a security deposit, or a guarantor is referred to as a collateral free loan. This loan is unsecured. In order to make sure you can repay your loan on time, collateral free business loans are unsecured and take into account your present revenue, cash flows, and business sustainability.
Let's start by asking what collateral is. An asset with a known financial worth that may be used as collateral for borrowing money. Real estate, undeveloped land, equipment, shares and stocks, and automobiles are examples of assets that can be pledged as collateral for loans. If you are unable to pay back the loan, the lender maintains the right to seize the pledged asset and sell it to recoup the unpaid loan balance.
Collateral free loans provide you with entire freedom and peace of mind when taking out any loan because you are not required to pledge any assets. Collateral-free loans are available for both personal and professional use. Loans without collateral can be used to pay for wedding expenditures, medical crises, and further education.
Who Needs a Loan Without Collateral?
Large businesses and industries require significant capital investments that might total tens, hundreds, or even thousands of crores, hence they are not eligible for loans without collateral. Employees and proprietors of MSME businesses typically need collateral-free financing (micro, small and medium enterprises).
Small-town residents really like MSMEs, and it's noteworthy to remember that there are already more than 600 crore MSMEs operating in India. MSMEs have a major impact on the expansion of the Indian economy.
A few examples of collateral free loans
Following are some examples of collateral free loans are:
Loans for workers' personal use
Loans for a portion of the purchase price of house loans, vehicle loans, or other personal loans, or capital for small and medium-sized enterprises
Medical costs not covered by insurance that must be paid out of pocket Child tuition
Loans for upgrades to your house or business
Loan refinancing
Any unforeseen costs that arise right away and are not budgeted for at the beginning of the year
Advantages of collateral free loans
The absence of a collateral requirement is the primary advantage of a loan with no collateral. A few other advantages are:
The interest rates on the loans are subtracted.
The payback period is adjustable and might last up to five years.
Bill discounting and letter of credit are both available for up to 180 days.
When authorising this loan, no credit history check is performed.
Additionally, there is financing available for product development.
The application processing is swift and painless.
We have understood what collateral free loans are, and seen a few examples and some benefits they bring. Lets us now see what are some of the public collateral free loans that small businesses and MSMEs can obtain as excellent financing options.
Public Collateral Free Loan Schemes:
CGTMSE
There are several business loans available with no collateral. Cash Credit and Term Loan under CGTMSE is one of the extremely popular collateral-free loans.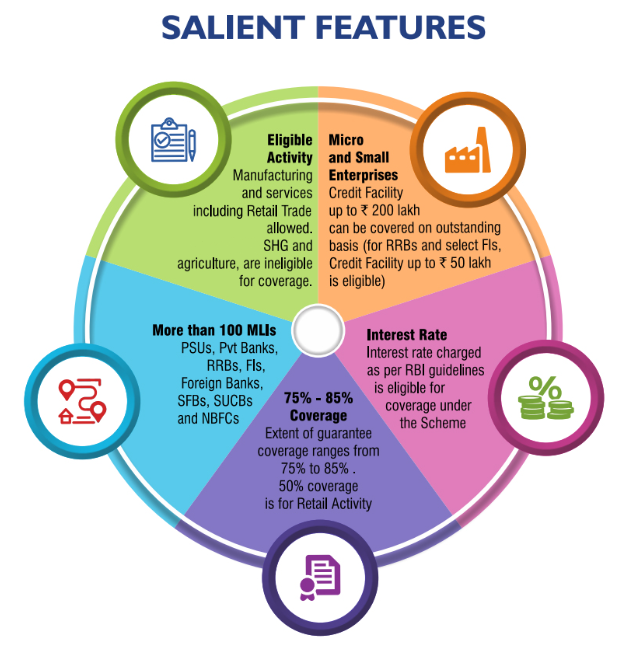 Micro and small businesses (MSEs) are eligible for collateral-free loans up to Rs 1 crore, according to the CGTMSE. This plan has been put up to support India's micro and small businesses. This industry has historically struggled with problems including finance shortages, development prospects, working capital requirements, and business scalability. This loan was established by the Indian government in association with SIDBI in order to guarantee the success of SME initiatives.
Under the CGTMSE, individuals can also get a startup business loan by the Indian government up to ₹1.5 crore. Borrowers must have a registered business and are required to show a detailed and workable business plan while applying for the loan. Flexible repayment plans that last up to 5 years are available.
The loan is distributed by MLIs (Member Lending Institutions), which may include any scheduled commercial bank (PSUs, foreign or private banks), as well as certain state rural banks and finance organisations.
According to current RBI standards, the interest rate charged by MLIs cannot be more than 3% more than PLR (Prime Lending Rates). For instance, if SBI's PLR is 10%, the maximum interest rate on a CGTMSE collateral-free loan cannot exceed 13% (10% + 3%).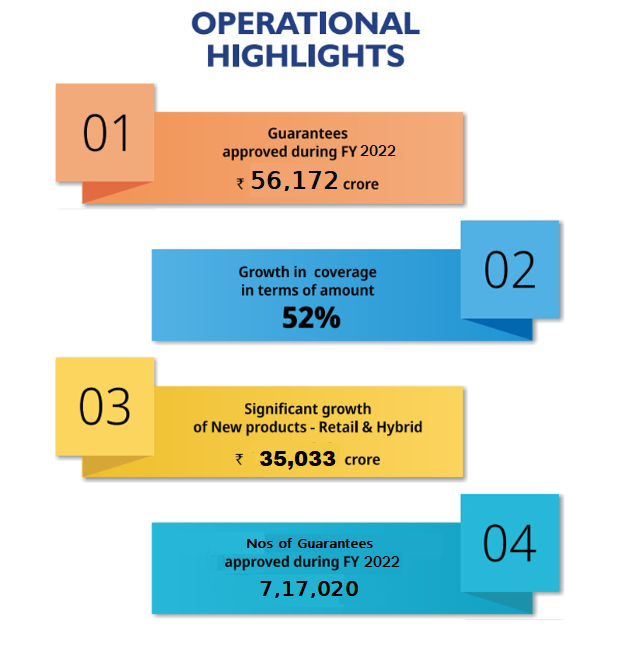 How can you submit an application for the CGTMSE's collateral-free loan?
You must begin conducting commercial activities, secure all necessary permits, and register your company. You also need to apply for a company PAN card and create a current account at a bank.
You must provide a detailed project report that details the project's feasibility and includes quantitative measures like ROI, Payback, and break-even points. When creating the feasibility study, you must get expert assistance in order to convince the financiers that the firm has a bright future.
To apply for the loan, you must go to the bank in person. It is essential to contact two or three banks in order to have a larger range of loan sanctioning possibilities.
The bank will submit an application for subsidy coverage to the CGTMSE after the loan has been approved. A lot of documentation must be submitted by the bank in order for the plan to be approved. You must pay the appropriate CGTMSE guarantee fee when the CGTMSE consents to give you coverage.
Collateral Free Loans (CGTMSE) Are Provided By –
Public Sector Banks –
Private Sector Banks –
MUDRA Yojana
MUDRA, or Micro Units Development and Refinance Agency, was established on 8 April 2015 under the Jan Dhan Yojana and functions more like an MFI (Micro Finance Institution), with a maximum loan amount of INR 10 lakhs.
3 types of collateral free loans that are disbursed under the MUDRA yojana are as follows:
SHISHU: This collateral free loan has a maximum limit of up to 50,000 INR, an interest rate of 12% p.a., and a repayment period of 5 years.
KISHORE: This collateral free loan has a maximum limit of 50,000 – 5 lakhs INR, an interest rate at the discretion of the MLI, and a repayment period that is at the discretion of the MLI
TARUN: This collateral free loan has a maximum limit of 5 lakhs – 10 lakhs INR, the interest rate at the discretion of the MLI, and the maximum repayment period is also at the discretion of the MLI
Under the Pradhan Mantri MUDRA Yojana, several public and private sector banks, regional rural banks, MFIs, NBFCs, and co-operative banks serve as MLIs (member lending institutions) to the borrowers (PMMY).
What requirements must you meet in order to be eligible for collateral-free loans?
The requirements to be eligible for these loans are quite simple:
Sole Proprietorship Firms
Private Limited Companies
Partnership Firms
Public Limited Companies
Private Limited Companies with SME/SSI registration may apply